Discovering Death Valley Ghost Towns: A Journey Through Time
Death Valley, a desolate stretch of land in Eastern California and Nevada, is a place of extremes. Known for its scorching temperatures, harsh landscapes, and rich mining history, the area is also home to numerous ghost towns.
These abandoned settlements, once bustling with life during the late 1800s and early 1900s, now stand as silent witnesses to the passage of time. In this article, we will explore some of the most fascinating Death Valley ghost towns, delving into their intriguing past and uncovering their secrets.
Panamint City, California
Nestled deep within the Panamint Mountains of Death Valley lies Panamint City, a well-preserved ghost town that offers a glimpse into the lives of miners and settlers in the late 19th and early 20th centuries.
Founded in the early 1870s, Panamint City's silver and copper deposits attracted a motley mix of miners, bandits, and eager politicians. At its peak, the town was home to 2,000 residents, boasting numerous saloons, hotels, and businesses.
Today, all that remains of Panamint City are abandoned cabins, mining equipment, and the occasional rotting car. The journey to this remote ghost town is not for the faint-hearted, requiring a challenging 5-mile hike through Surprise Canyon, with a 4,000-foot elevation gain.
Those who dare to undertake this adventure will be rewarded with stunning views, lush greenery, and a fascinating glimpse into the past.
The Allure of Surprise Canyon
As you hike through Surprise Canyon on your way to Panamint City, you'll find yourself immersed in a green oasis, a stark contrast to the barren desert landscapes of Death Valley. The canyon is aptly named, as its abundant water sources and verdant vegetation are truly a surprise in this arid region.
Along the trail, you'll encounter dazzling white canyon walls, cascading waterfalls, and crystal-clear pools, making it an ideal spot to take a refreshing dip.
Exploring the Ruins of Panamint City
Once you reach Panamint City, you can spend hours exploring the remnants of this once-thriving settlement. Among the highlights are the iconic brick smokestack, miner's cabins, and mining equipment. As you wander through the ruins, you'll be transported back in time, imagining what life must have been like in this remote, rugged corner of Death Valley.
Ballarat, California
A Glimpse of the Wild West in the Mojave Desert
Located on the western edge of Death Valley National Park, Ballarat is a small ghost town that once served as a mining supply station and source of whiskey and water for the parched desert inhabitants. Founded in 1896, Ballarat peaked in 1897, boasting a population of 500, complete with a post office, morgue, and jail.
However, as mining operations dwindled, the town's fortunes declined, and the post office closed its doors in 1917.
Today, visitors can explore Ballarat's decaying buildings, trucks, and farm equipment and pay a visit to the small store that houses a collection of historic artifacts and explanatory signage. While exploring the town, keep an eye out for the old graveyard and the grave of Seldom Seen Slim, one of the last Rainbow Seekers who called Ballarat home.
A Fascinating Encounter with Rocky Novak
One of the most interesting aspects of visiting Ballarat is meeting Rocky Novak, the ghost town's sole resident and unofficial "mayor." This enigmatic figure keeps the town's memory alive, offering visitors a wealth of information about Ballarat's past and present.
Be sure to stop by and chat with Rocky, who is always happy to share a cold drink and a story or two about this fascinating corner of Death Valley.
Rhyolite, Nevada
The Queen City of Death Valley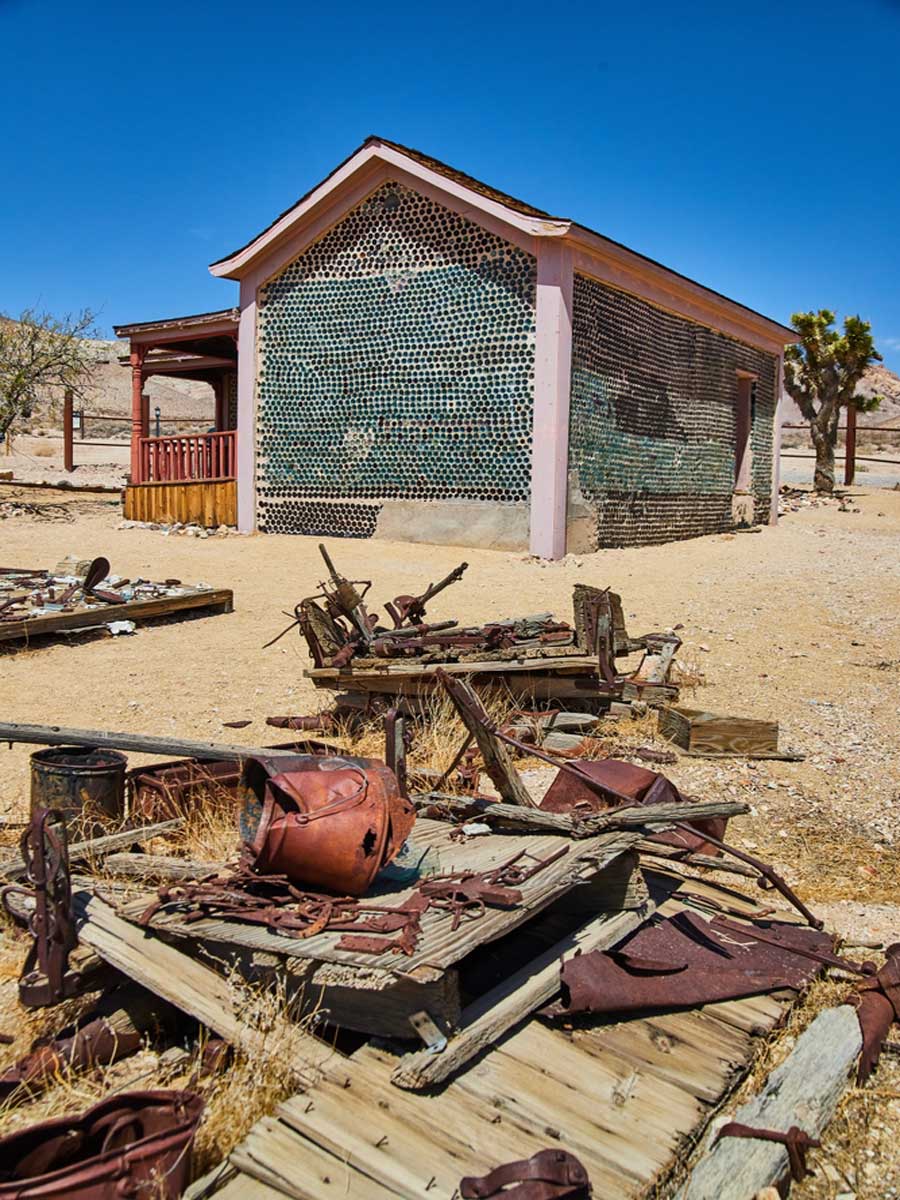 Arguably the most famous and accessible Death Valley ghost town, Rhyolite is situated just outside the park's borders, near the Nevada town of Beatty. Established in 1905, Rhyolite quickly grew to become the third-largest city in Nevada, boasting a population of up to 5,000 people at its peak.
The town's rapid decline began following the 1907 financial panic, and by 1911, the mine had closed, leaving the once-thriving settlement all but abandoned.
Rhyolite's well-preserved ruins offer a fascinating insight into life during the gold rush era. As you explore the town, you'll find a general store, bank, jail, train depot, and the unique Tom Kelly Bottle House, the US's largest and oldest bottle house.
Don't miss the Goldwell Open Air Museum, which features a collection of intriguing sculptures set against the ghostly backdrop of Rhyolite's crumbling buildings.
How to Get to Rhyolite
Rhyolite is easily accessible by car, located just 4 miles west of Beatty, Nevada, and about 1.5 hours northeast of Death Valley's main attractions. As you explore this fascinating ghost town, you'll be transported back in time, marveling at the remnants of a once-prosperous community that has been reclaimed by the unforgiving Nevada desert.
Chloride City, California
A Town Lost to the Elements
Situated within the borders of Death Valley National Park, Chloride City is a ghost town that's both remote and challenging to reach. Founded in 1871 after the discovery of silver ore, the town's isolated location and lack of infrastructure meant that it never experienced the same boom as other settlements in the region.
Despite intermittent mining activity throughout the early 1900s, Chloride City eventually succumbed to the harsh desert environment and faded into obscurity.
Today, visitors to Chloride City can explore the ruins of old cars, building remnants, and mine entrances, offering a haunting glimpse into the town's past. However, reaching this isolated settlement requires a 17-mile journey along a dirt road, best tackled with a 4×4 vehicle and plenty of determination.
Getting to Chloride City
To access Chloride City, head east on Daylight Pass Road toward Beatty, Nevada, and look for a small sign 3.6 miles east of the Hells Gate rest stop. From there, follow the unmarked dirt road south and upwards into the mountains, keeping in mind that this challenging journey is best attempted with a high-clearance 4×4 vehicle.
Darwin, California
A Living Ghost Town on the Edge of Death Valley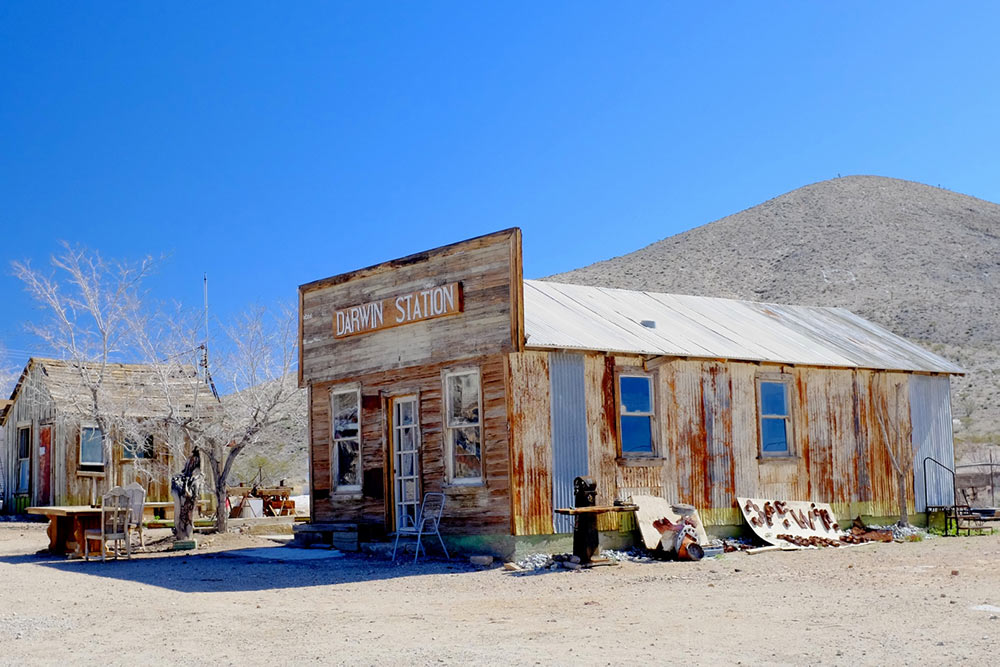 Darwin, located just outside the western boundary of Death Valley National Park, is a unique "living" ghost town with a small population of 36 residents, according to the 2020 census.
Established in 1874 during the region's silver and lead mining boom, the town's fortunes were tied to the nearby Eichbaum Toll Road, which provided access to the national park. However, Darwin's population began to decline when Death Valley was designated a national monument in 1933 and a new, free bypass was built.
Today, visitors can explore Darwin's old buildings, folk art stores, and open-air museum while being mindful that this is still a living community with private property. Be sure to stop by the historic post office, which has been in operation since 1875, and is open from 10 a.m. to 2 p.m. Monday through Saturday.
Getting to Darwin
Darwin is situated approximately 30 minutes west and south of Panamint Springs, making it a convenient stop for those exploring the western reaches of Death Valley National Park.
Cerro Gordo, California
The Authentic Mining Ghost Town Experience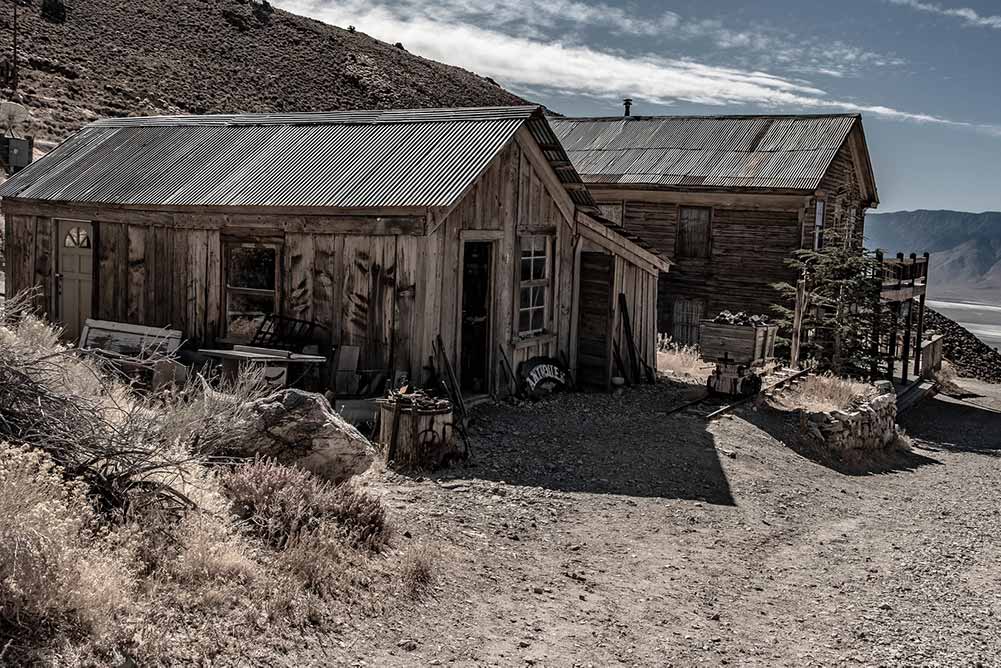 Cerro Gordo, Spanish for "fat hill," is one of the most authentic mining ghost towns near Death Valley. Although not within the park itself, this well-preserved settlement is worth a visit for those exploring the Highway 395 corridor.
Cerro Gordo was the site of the first major silver strike in Owens Valley, and its rich history dates back to 1865 when Pablo Flores established a silver ore mining and smelting operation at Buena Vista Peak.
By 1867, more miners flocked to the area, and a proper road was built to facilitate ore transportation to Los Angeles. At its peak, Cerro Gordo was home to 1,500 people, but the town's population dwindled as the mines' production and profitability waned.
Today, Cerro Gordo is a privately-owned 336-acre ghost town that offers visitors an authentic 19th-century mining town experience.
Exploring Cerro Gordo
Visitors to Cerro Gordo can explore the well-preserved ruins of the town, including the Hoist House and Assay Office, while taking in the stunning scenery of the surrounding mountains. The town is open from 9 a.m. to 5 p.m. Monday through Sunday, with an entrance fee of $10.
Getting to Cerro Gordo
Cerro Gordo is located 41 miles southeast of Lone Pine, off Highway 395. To reach the town, you'll need to drive up an 8-mile dirt road, which can be steep in sections and requires a 4×4 vehicle or at least some clearance.
Keeler, California
A Near-Ghost Town on the Edge of Owens Lake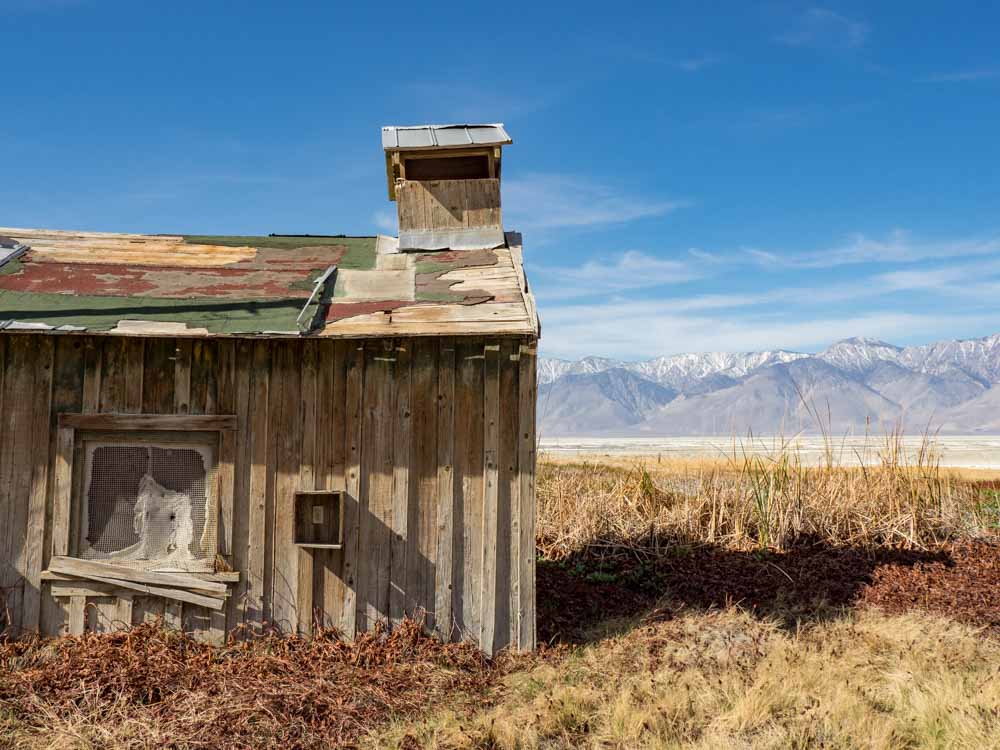 Keeler, situated 15 miles south of Lone Pine and on the western road into Panamint Springs, is a near-ghost town with a population of 71 and a collection of abandoned buildings.
Established in the 1870s as a freight terminal on the shores of Owens Lake, Keeler grew with the development of the Cerro Gordo mines and a rail spur that connected the two settlements.
As Cerro Gordo's fortunes faltered and Owens Lake dried up, Keeler's population declined. Today, visitors can explore the old post office, the Owens Lake Silver Company furnace, and other mining buildings while remembering that this is still a living community with private property.
Getting to Keeler
Keeler is easily accessible, located just 15 miles south of Lone Pine on the western road leading into Panamint Springs and Death Valley.
Randsburg, California
A Living Ghost Town with a Rich Mining History
Once part of the thriving Rand Mining District, Randsburg is a ghost town in the Mojave Desert near Death Valley. Established in 1895, the town experienced several booms and busts as the nearby mines produced over $25 million worth of gold (based on 1920s pricing).
Today, Randsburg is home to a small population of around 60 residents who preserve the town's historic buildings, including the old jail, church, and cemetery. Visitors can explore this fascinating settlement, which offers a unique glimpse into the life of a mining town during the height of the gold rush.
Getting to Randsburg
Randsburg is located approximately 35 miles from Death Valley's Furnace Creek Visitor Center and 120 miles from Las Vegas, making it an ideal day trip or road trip destination for those exploring the Southwest.
Death Valley Ghost Towns: A Journey Through Time
Death Valley's ghost towns offer a unique opportunity to explore the region's rich history and gain an insight into the lives of those who once called these remote settlements home.
Whether you're an avid history buff, a lover of ghost stories, or simply seeking adventure in the great outdoors, these ghost towns provide a fascinating window into the past.
So, why not don your cowboy hat and set out on a journey through time, as you uncover the secrets and stories that lie hidden within the desolate landscapes of Death Valley?