How Far Is Oatman Ghost Town From Laughlin: A Comprehensive Guide
Oatman Ghost Town, a remarkable historical site in Arizona, is a must-visit destination for travelers looking to immerse themselves in the Wild West era. In this comprehensive guide, we'll dive into the details of Oatman Ghost Town, its fascinating history, and the unique experiences it offers to its visitors. So, how far is Oatman Ghost Town from Laughlin, Nevada?
This captivating location is just a 30-mile (48.28 km) drive, making it a perfect day trip option for those in the Laughlin area.
The History of Oatman Ghost Town
The Birth of a Mining Town
Oatman Ghost Town's history dates back to the 1860s when gold was discovered in the area. The town blossomed during the gold rush in 1915 and attracted miners and prospectors from all corners. Oatman's population grew to over 3,500 residents during this boom period. However, the town's main mine closed in 1924, and the last mines shut down in 1944, leading to a decline in mining activities.
Today, Oatman thrives on tourism and its wild burros, attracting visitors with its wooden sidewalks, staged gunfights, unique souvenir shops, and quirky annual events. Situated at an easy driving distance from Laughlin, Nevada, and Bullhead City, Arizona, Oatman Ghost Town promises a fun and memorable day trip.
Olive Oatman: The Town's Namesake
The town was named after Olive Oatman, a girl who was allegedly kidnapped by the Yavapai tribe and later lived with the Mohave people for three years. Her family resided in the area that eventually became Oatman.
Exploring the Oatman Ghost Town
Burros of Oatman Ghost Town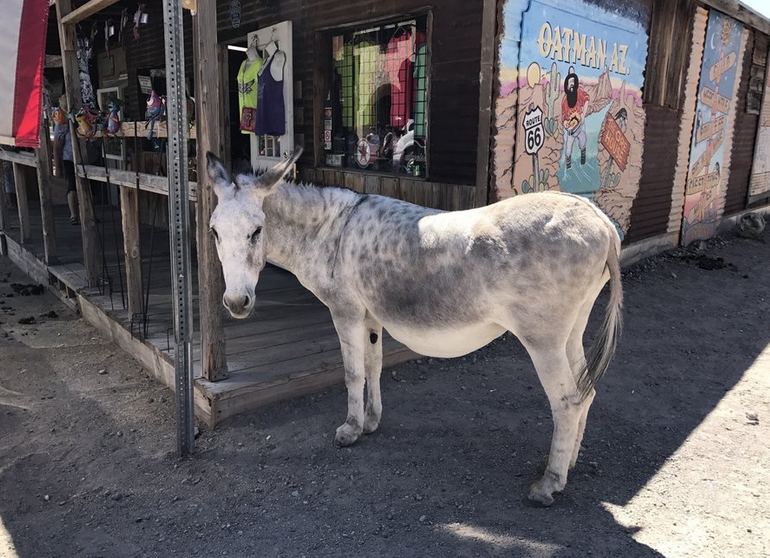 As you drive into Oatman Ghost Town, wild burros are the first sight to welcome you. These descendants of the pack animals used by the 1800s prospectors have made Oatman their home. Although most of the burros are friendly, feeding is discouraged, and caution is advised when approaching them, as they have been known to nip.
Oatman Outlaw Shootout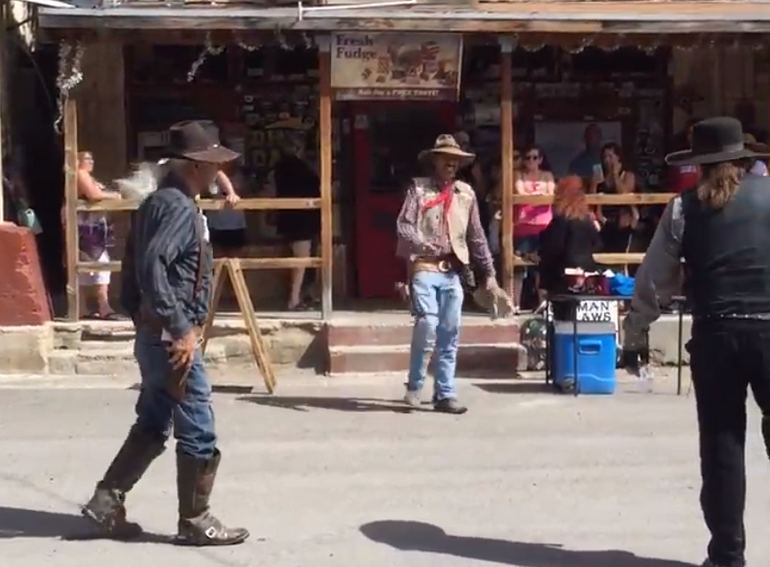 Experience the Wild West firsthand by witnessing a shootout in the middle of the street. The Oatman Outlaw Shootout takes place at noon and 3:30 pm most days. These entertaining cowboy gunfights are not to be missed, and while the shows are free, the actors do collect donations for local charities.
Glory Hole Museum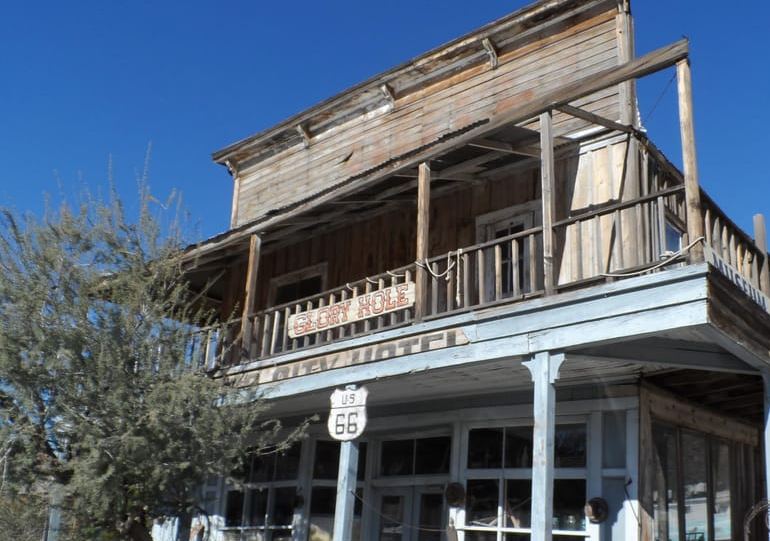 Located on Main Street, the Glory Hole Museum is filled with antiques, memorabilia, and artifacts from Oatman's past. The museum, built in 1915, was initially the town's drugstore. Its displays include a bed from the ghost town's red-light district, desks from the Oatman School, bottles, and mining equipment.
Souvenir Stores & T-Shirts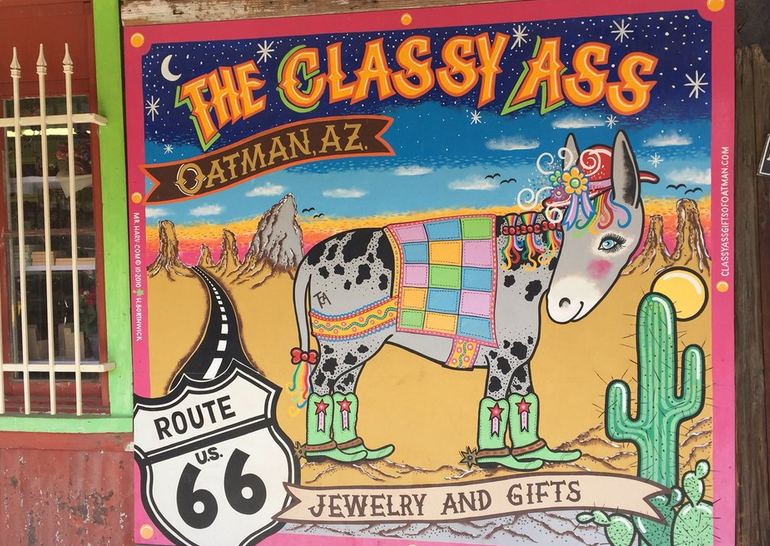 During Oatman's boomtown years, the streets were lined with saloons. Today, the town features quirky souvenir stores with equally quirky names, such as Jackass Junction, Outlaw Willies, The Classy Ass, Oatman General Store, Yellow Hammers Place, Bucktooth Burro, Jack Ass Treasures, Fast Fannys, and Saving Your Ass. Souvenir T-shirts are available in every store, and prices tend to be lower the further up the main street you go.
Oatman Hotel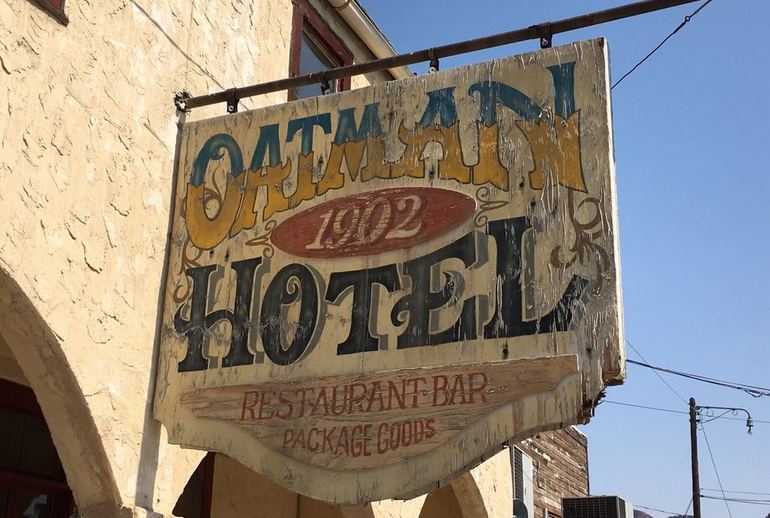 Built in 1902, the Oatman Hotel is one of the town's most interesting attractions. The hotel is famous for being the honeymoon suite of actors Clark Gable and Carole Lombard in 1939 and serves delicious buffalo burgers. The honeymoon suite is on the second floor, and visitors can peek through the door's window.
Making Memories Old Time Photos
At Making Memories, visitors can dress up as cowboys or cowgirls and have an Old Time Photo taken with a selected western background. Additionally, if you feel the sudden urge to tie the knot, the studio's owners are licensed ministers and can perform a wedding ceremony.
Route 66 Cool Springs Station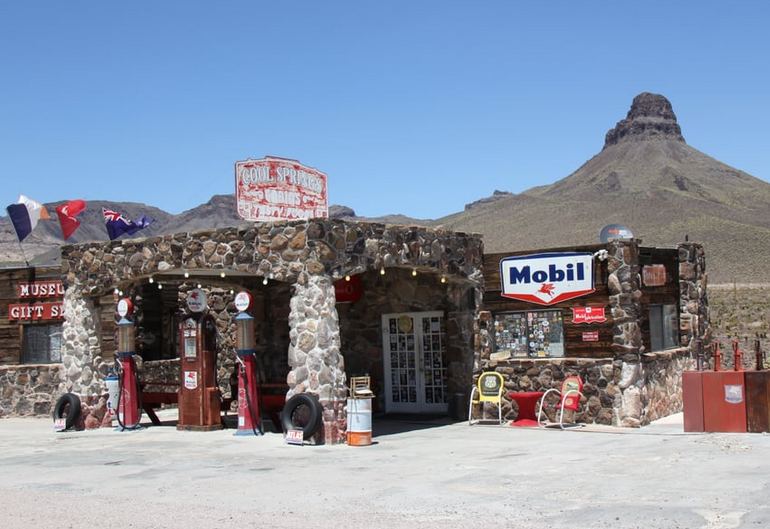 Oatman Road, the old Route 66, is a 42-mile stretch that climbs Sitgreaves Pass at an elevation of 3,550 feet and passes through the stunning Arizona desert. One must-visit spot along Route 66 is Cool Springs Station, a former service station that has been transformed into a Route 66 museum.
What's Cooking in Oatman Ghost Town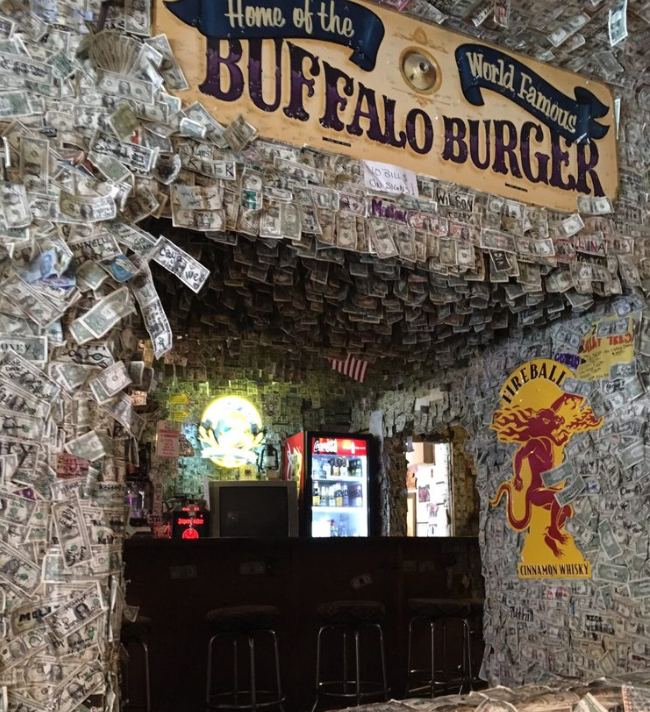 Satisfy your southwestern comfort food cravings at one of Oatman's eateries. The Olive Oatman Restaurant is known for its tasty chili and peach fry bread, while the Oatman Candy Shop offers prickly pear candy. For a refreshing drink, head to Judy's Saloon or the Oatman Hotel, which serves breakfast and lunch.
Getting to Oatman Ghost Town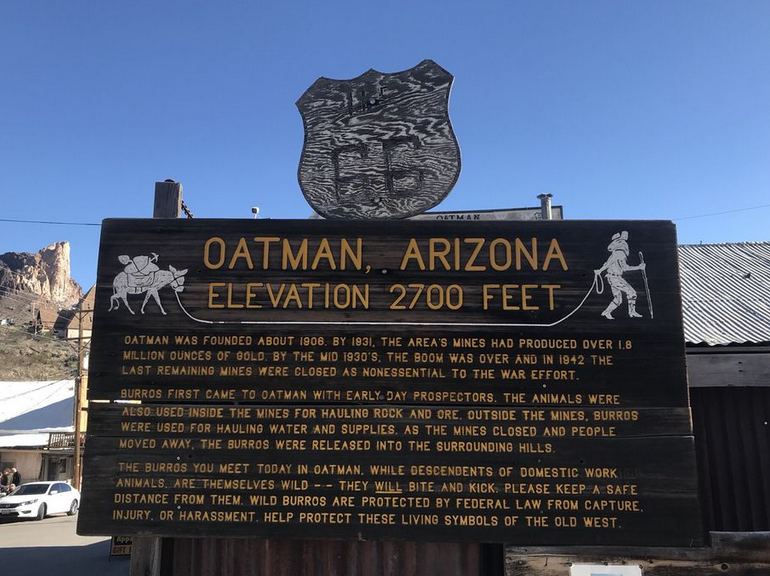 Oatman Ghost Town is situated on historic Route 66, 25 miles from Needles, California, 30 miles from Laughlin, Nevada, and 28 miles from Kingman, Arizona. The drive between Laughlin and Oatman takes approximately 42 minutes, making it a convenient day trip destination for those staying in the area.
Where to Stay Near Oatman Ghost Town
While Oatman has no hotels, nearby cities like Kingman, Bullhead City, and Laughlin offer plenty of accommodation options. The Best Western in Kingman is a family-friendly option with an outdoor pool and complimentary breakfast.
More Fun on Historic Route 66
The Route 66 Museum in Kingman, Arizona
Learn about the fascinating history of the "Mother Road" at the Route 66 Museum in Kingman, Arizona. The museum is open daily from 9 am to 5 pm.
Flagstaff, Arizona
Flagstaff is an amazing college town with plenty of activities, restaurants, shopping, and lodging options. It's worth exploring on a day trip or as a base for your Arizona adventures.
Rock Art Ranch
Located in Joseph City, Rock Art Ranch is a privately owned canyon and ranch featuring one of the most extensive petroglyph collections in the world.
Additional Must-See Attractions Near Oatman Ghost Town
Grand Canyon
No trip to Arizona would be complete without visiting the awe-inspiring Grand Canyon. This natural wonder is just a few hours away from Oatman and offers breathtaking views and numerous outdoor activities.
Monument Valley
Monument Valley is another iconic attraction in Arizona, with its majestic sandstone buttes and spectacular landscapes. This destination is perfect for photographers and nature lovers alike.
Horseshoe Bend
One of the most stunning natural formations in the area is Horseshoe Bend, where the Colorado River takes a dramatic turn, creating a horseshoe-shaped bend. This picturesque spot is not to be missed.
Antelope Canyon
For those seeking a more unique and mystical experience, Antelope Canyon offers a maze of narrow, winding passageways with enchanting light beams and colorful sandstone walls.
Tips for Visiting Oatman Ghost Town
Make sure to wear comfortable walking shoes and bring plenty of water, as the Arizona heat can be intense.
Be cautious when approaching the wild burros, as they may nip or kick if they feel threatened.
If you plan on attending the Oatman Outlaw Shootout, be prepared for loud noises and large crowds.
Avoid visiting Oatman during the hottest months of the year (June-August) due to extreme temperatures.
Remember to bring cash for donations and purchases, as some establishments may not accept credit cards.
Conclusion
In summary, Oatman Ghost Town is a hidden gem that offers a unique and unforgettable experience for visitors looking to explore the Wild West's history and charm. Located just 30 miles from Laughlin, Nevada, this quaint town is a perfect day trip destination for history buffs, nature lovers, and adventure seekers alike.
So, pack your bags, hit the road, and embark on a journey to Oatman Ghost Town – a fascinating and captivating piece of American history awaits you!